Start main content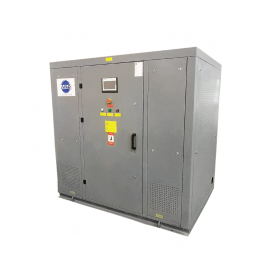 Heat Pump is now getting popular in commercial application since higher temperature output can be obtained and it is more efficient than hot water boiler.
Features:
Environmental Friendly
Minimize CO2 Emission
Energy, fossil saving
High COP performance
Less in Payback period
High Reliability
Compact in Size
Easy to operate and maintenance
A wide capacity range is available from 20kW to 2000kW as per customers' request.
Technical Information
Applications for AROTEX Heat Pump
Swimming Pool Heating
Hospital Hot Water Usage
Hotel Hot Water Usage
Space Heating for Hotel, Schools, Data Centre
Industrial Process Heating and Cooling
VAV Reheat
Reheat Coils
Installation & Operation
Modular Design fits to smaller plant room or renovation project
Installation quickly
Easy to operate with large LCD screen display
Control System
Programmable Logic Controller
Manual switch for emergency redundancy
Remote control
BMS interface in different communication
Options for MODBUS, BACNET, LON, MBUS
Flexible in Design
Wide model range in capacity
Panel & display can be array in various allocation
Water-sourced heat pump is a typical system that works in the Reverse Carnot Cycle; whereby it absorbs the heat from the Chilled Water Return (temperature usually ranges between 12 to 14 degree Celsius) to generate hot water of between 60 degree Celsius ± 5 degree Celsius.
The system working principle is as follows,
1) When the Chilled Water Return enters the plate heat exchanger of the evaporator side of the heat pump of temperature between 12 to 14 degree Celsius, it transferred the heat to the refrigerant to turn the refrigerant into gaseous state. At the same time, the Chilled Water Return's temperature is reduced to 7 to 9 degree Celsius.
2) Thereafter, this gaseous state of the refrigerant enters the compressor where the temperature goes higher.
3) After leaving the condenser, where the heat exchanger is, the heat is transferred to the hot water storage tank.
4) The refrigerant will go through the expansion valve of the system and the entire process is repeated again.
The combined Coefficient of Performance (COP) is approximately 5.0; 3.5 from the heating source and 1.5 from the cooling source.
Maskinfabrikken ARO A/S is a well-known brand in Europe which provides an effective heating solution. With more than 70 years of experience in producing high-quality heating products like Heat Pump, Water Heater, Storage Calorifier and Package Heat Exchange Unit, AROs remain in the leading position as a heating solution provider. With the continuous development of the heat recovery system, ARO offers a wide range of high-efficiency Heat Pump for various applications. ARO Heat Pumps are used by major companies in Denmark and Europe. With ARO's unique design, ARO Heat Pump meets the excellent performance in environmental aspects including Energy Efficiency, Heat Recovery, Minimized Fossil Fuel Usage and Carbon Generation.

Rather than a traditional low-temperature heat pump, ARO is also dedicated to developing high-temperature heat pump which can generate hot water at over 80℃ to suit a vast number of applications. This type of high-temperature heat pump can operate even at a very low-temperature environment of -25℃, but still generate 60℃ hot water continuously. The traditional single stage heat pump could never operate in such an extreme environment. This type of heat pump can replace hot water boilers in many circumstances. Compared with traditional heat pump, the high-temperature heat pump has an absolute advantage in efficiency performance, environmental protection, and operating & maintenance expenses.