Start main content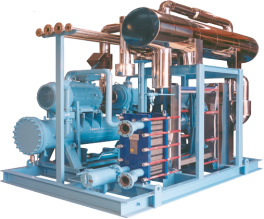 Ammonia Glycol Chillers are specialized in super low temperature refrigeration systems, and often involve the use of antifreeze.
Ammonia Glycol Chiller
Ammonia has no ozone depletion potential (ODP) or global warming potential. Ammonia chiller systems or Ammonia glycol chiller system are highly energy efficient has a much better part-load efficiency. When environmental concerns become more important in the global, packaged ammonia chiller units can be ready in design, efficiency, safety, and costs.
Ammonia chiller unit has standard screw compressors with variable-volume ratio regulation and capacity regulation down to 10 percent; standard flanged, high-efficiency, low-noise motor; standard, semi-welded, plate-and-shell condenser.

Ammonia Glycol chillers are specialized in super low-temperature refrigeration systems, and often involve the use of antifreeze. A chiller is essentially a refrigerator that includes a compressor, evaporator, condenser, and a metering device. It comprises of four components; an evaporator, a compressor, a condenser, and an expansion unit. Glycol is frequently used in heat transfer and cooling applications. It provides better heat transfer parameters than water and can be mixed with water to provide a variety of heat transfer characteristics.

The reliability and durability of ammonia components provide for the lowest life cycle cost of any chiller over a 20 -years cycle.
New Generation HallScrew Compressors
J & E Hall has added seven new models to the existing HallScrew range, which provide more intermediate capacities with a focus on compact design and efficiency.
The new HSO 4225/6/7, 5200 and 6200 series are the next generation of open drive single screw compressors. Reflecting the very latest innovations in screw compressor technology, the current range up to 2486m³/h now includes models 898 – 2100 m³/h with fixed or variable volume ratio. As with all HallScrew open drive compressors, the new models can operate on all refrigerants including natural refrigerant options.

Key to HallScrew's success is its outstanding reliability, utilising only three basic moving parts. The main rotor that meshes with two diametrically opposed star wheels produces balanced compression resulting in an extremely long main bearing life of over 100,000 hours and reduced lifecycle costs.

7 New Models Launched
Single screw compressor technology
Open and semi-hermetic models
Complete range displacements from 175 - 2486m3/h
New open drive models to give more intermediate capacities
New variable volume ratio models from 898 - 2100m3/h
Multi refrigerant options
J & E Hall is one of the world's foremost refrigeration solution providers, have been developing refrigeration technology for over 120 years, and are able to call upon unrivaled expertise and cutting edge production capabilities worldwide.
As a market-leading industrial refrigeration and process cooling solutions provider, J & E Hall is uniquely placed to work in partnership with customers representing the marine, chemical, petrochemical, pharmaceutical, brewing, beverage and food processing industries.
J & E Hall can develop bespoke refrigeration packages using ammonia, CO2 and hydrocarbon refrigerants to provide assured performance and reliability in the most demanding conditions. Our industrial refrigeration design services can assist clients from a range of industries at every stage of a project from system conception to commissioning and on-going support.