Start main content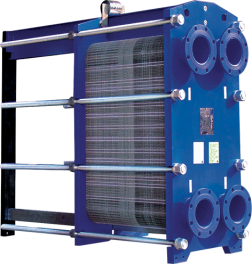 Plate Heat Exchanger is widely used in different kinds of application and, it performs at a higher efficiency and is in a smaller size in comparison to the traditional shell & tube or shell & coil Heat exchanger.
IES specializes in designing and manufacturing different types of high thermal efficiency Plate Heat Exchanger (PHE) for a wide range of applications such as HVAC, central hot water system, space and pool heating and many more.
We supply a full range of clip-on-gasket, glue-gasket, double wall, semi-welded, free flow and brazed type heat exchangers to satisfy our customers' unique requirements.
With the varieties of plate heat exchangers, IES Plate Heat Exchanger can offer an optimal technical solution for any possible project with connection sizes from DN32 to DN500, covering a liquid flow up to 4000 mᶟ/hr.
IES Plate Heat Exchanger has more than 30 models with different width and connections to fit different site arrangement. Plate material includes stainless Steel 304, Stainless Steel 316 and titanium, with different thickness and arrangement. Gasket material includes Nitrile Rubber, EPDM and Viton.

IES Plate Heat Exchanger is the best choice for heating supply, ventilation air conditioning or refrigeration. Its application includes but not limited to:
Sea water cooling (Engine)
District cooling / heating
Tap water
Milk and cream pasteurization
Pressure breaker in HVAC system
Sanitary water for food processing
The nuclear industry for safety reasons
Water for medical injection / ultra pure water
Portable water for Boiler and Heat Pump Application