Start main content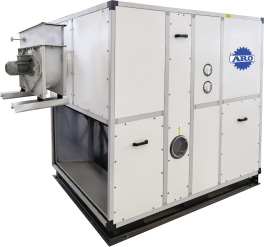 Desiccant Dehumidifier is an efficient solution to maintain and control humidity levels.
adopting highly efficient and stable silica gel adsorption technology
stable air outlet, suitable for continuous running throughout the year
effectively absorb moisture at wide temperature range
the regenerative heater is safe and reliable
the unit cabinet is made of stainless steel, which is beautiful and durable
Buildings such as medical centres, data centres, hotels, commercial buildings, electronic production facilities, and warehouses where relative humidity need to be controlled and maintained at a particular range at all-time, enabling machinery to operate at its optimal efficiency and increase its longevity.
Desiccant Dehumidifier has proven to be effective in controlling indoor humidity and could operate in conditions where conventional dehumidifier method could hardly achieve, for example, at low supply temperature.
Indirect-Fired Desiccant Dehumidifier is a safer alternative to replace direct fire desiccant unit in concern of possible CO2 leakage in the supply air stream. As the combustion is performed in the combustion chamber, where the double-wall insulation isolates the supply air stream and combustion chamber.
Heating source options to be selected:
Gas Direct Fire
Hot Water
Solar Thermal
ARO ENERGY SOLUTIONS A/S is a well-known brand in Europe which provides effective heating solution. With more than 70 years of experience in producing high quality heating products like Heat Pump, Water Heater, Storage Calorifier and Package Heat Exchange, AROs remain in the leading position as a heating solution provider.